LATEST NEWS
NYCC-19: Commends Maigida Foundation for her Humanitarian Support to Youths, Less Privileged
By Millicent Umoru-Osakwua
July 03, 2020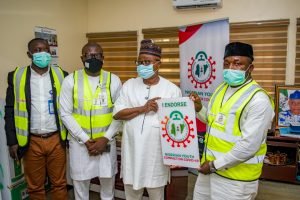 NYCC-19 Commends Maigida Foundation for Humanitarian Support to youths, less- privileged
The Nigerian Youth Compact on Covid-19 (NYCC-19) has commended Maigida Foundation for her Humanitarian support to the youth and less privileged in the society.
Mallam Gambo Haruna, National Chairman of NYCC-19, made the commendation during an advocacy visit to the Founder of the Non Governmental Organization(NGO) in Keffi, Nasarawa State on Friday, Dr Samuel Adegoke.
According to Haruna, NYCC-19 is a domestication of the United Nations' Compact on humanitarian actions on COVID-19. He added that the aim of the compact is to help government mitigate the spread of coronavirus.
According to Haruna, in the course of his duty outside the compact, he stumbled on the humanitarian activities of the the Maigida Foundation especially in Keffi
He noted with delight that Dr. Adegoke had used the Maigida Foundation to touch several lives positively and therefore,he deserves commendation and recognition
Comrade Haruna said, the philanthropist has been doing so much for the people of Keffi and outside Keffi environs. Haruna revealed that the founder had assisted so many people around him," even though he(,Adegoke) is not blowing his trumpet."
Prince Chibuike Echem, Vice Chairman NYCC-19 also appreciated Adegoke and the Federal Medical Centre, Keffi for their untiring effort in the current COVID-19 period.
He described the hospital and its staff as playing great role in the fore front in the fight against coronavirus.
Echem, however, stated that young people are the most neglected segment of the population in Nigeria, adding that as such, young people are the most affected by the Corona virus pandemic
Echem also stated that the compact would be engaging over 10 million youths to mitigate the impact of COVID-19 and therefore, sought partnership with organizations and individuals to support the project.
The Head of Advisory Board of NYCC-19, Engr. Uzoh Ifeanyi, who is also the focal person Commonwealth Alliance of Youth Workers Association (CAWAY) Nigeria also commended Dr. Adegoke and urged him to partner with the Compact, to touch more lives in the country.
Responding, Adegoke applauded the NYCC-19 team for coming together in the fight against COVID-19.
Adegoke, who is also the Head of Finance, Federal Medical Centre (FMC), said he started the foundation like a joke but never knew it would get to where it is today.''
He added that his foundation had assisted people in so many ways;both economically and medically.
Dr. Adegoke added that for the NYCC-19 coming with this project was like working together with his foundation.
He promised that the foundation would continue to work with NYCC-19, pending when the Corona virus vaccine would be available.
" We will be willing to support you in any way we can.
"The Synergy produces better result, hence we are ready to partner with the NYCC-19.We will fine-tune our relationship to produce a better result, Adegoke said.